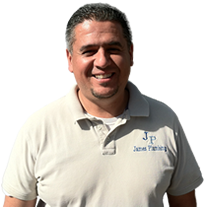 First I would like to thank you for visiting our website, as I believe this website is a great introduction to our company and the services we provide to our valued customers.
James Plumbing was started by me (James Sanchez)  in Greeley Colorado in 2003.  I acquired my Master Plumbing Certification in 2006.   Since the inception of James Plumbing, I have always wanted to provide top quality plumbing services and treat my customers fairly.  I believe building relationships through trust with my customers not only brings satisfaction to my customers, but to myself as well.
We spend much of our waking hours at work, and when I know my customers are treated well, and they appreciate my service knowing they can trust me and be pleased with the outcome of my efforts, it makes me personally fulfilled.  I focus on 100% customer satisfaction, and never over charge my customers or treat them unfairly.  The point of all this is that I hope my customers will always value my service and will call me back for future plumbing needs and refer me to their friends, family, and co-workers… I always hope to pick up many friends along the way.
You can contact me directly by calling 303-388-8579.  You can also fill out the following web form to request an appointment.  Thanks again for considering James Plumbing for all your plumbing needs.